Bluedart Tracking
⚠️ This is un-official portal for checking status of goods dispatched from
BlueDart
ware-house. You can check the courier status of goods dispatched for a period of 45 days from the date of dispatch / delivery.
About BlueDart Courier Tracking
BlueDart the first-class courier service of South Asia, widely known as unified express and package Distribution Company. The services of BlueDart covers over 34,831 locations and offers service to more than 220 countries and territories. The services are offered via DHL, one of the first brand names in express distribution services.
How to Track courier status
Just enter the tracking code you received from Blue dart (number below BAR code) and press submit, this will lead you to the tracking status page .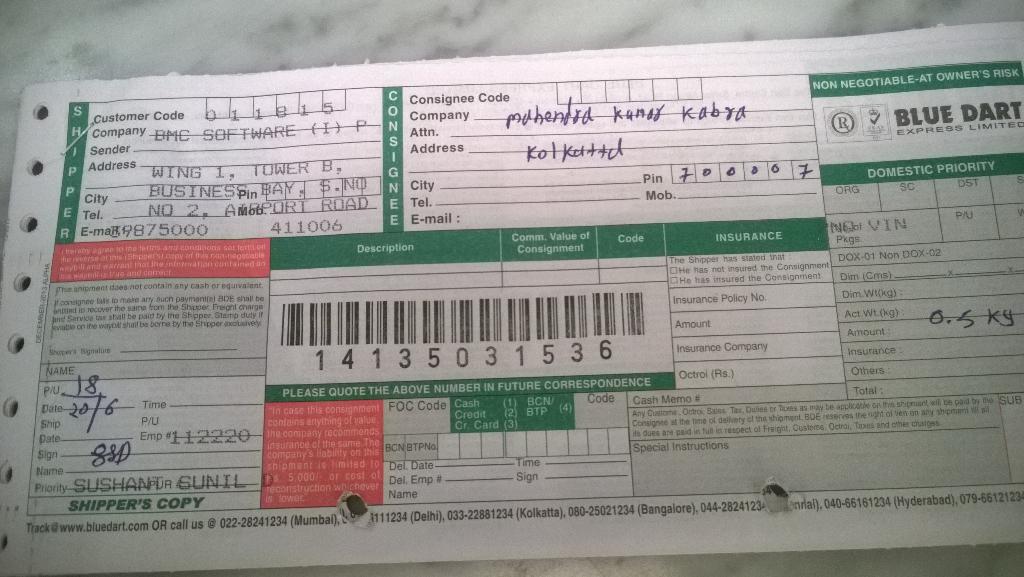 Why my SHIPMENT is not getting tracked yet?
It will take around 24 Hrs for your tracking number to get tracked online, usually Online shops sent tracking code early, before it gets tracked in official portal.
BlueDart offers you various modes through which you can easily track the courier. All the shipments can be tracked for a time period of 45 days from the day of dispatch.
Tracking via SMS
To know the current status of the order, send an SMS in the following format:
SMS: Type T < space> Reference Number to 56767
Also, to know the status of the courier on delivery, send an SMS in the below format:
SMS: Type I Reference Number to 56767
BlueDart Courier Tracking Services
You can use the following link to contact Blue Dart Directly - Contact Bluedart

---
⚠️ This is Not offcial Blue Dart Website
Bluedart Toll Free Number:
1860-233-1234
we are not associated with "Blue Dart" or "Blue Dart Express Limited" Phone numbers are provided for helping people who want to contact "Blue Dart Express Limited"
Bluedart Contact Number:
040 2824 1234 (Chennai)
Mumbai (Airport Vile Parle)
(022) 26184202/3286
Delhi (Delhi Cantt.)
(011) 25699951/52/53/54
Hyderabad
(040) 23311919/2110/2060
Kolkata
(033) 22881919